Baby Loss Awareness Month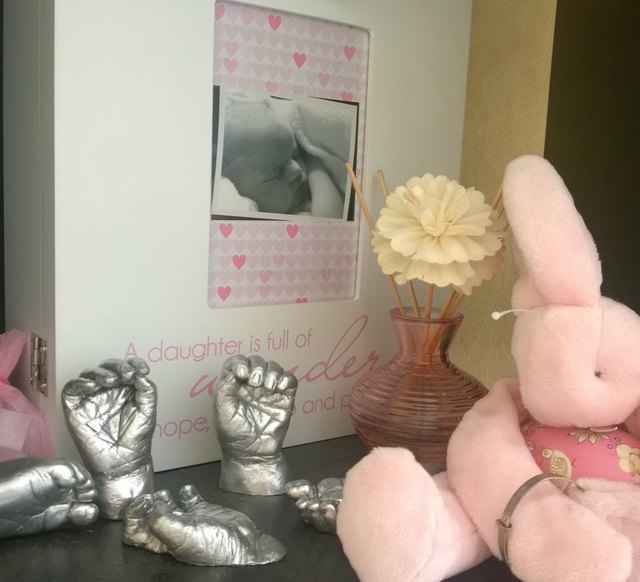 October is Baby Loss Awareness Month, with October 15 being Baby Loss Awareness Day.
Before losing Koby, I had only ever met one person who had lost a baby. It wasn't really something that was in my world, and I didn't really have any idea of the enormity of what it would mean. I mean it is one thing to know it must be sad and heart breaking - to actually feeling the real grief and heartbreak, and the longing and missing that can last a lifetime.
I met Clare and Ashleigh after they too, lost their precious babies.
Ashleigh had to say goodbye to Luka, just over a year after I said goodbye to Koby.
Ashleigh says :
In December 2012 my third baby, Luka, was delivered via emergency caesarean and tragically passed away soon after. She blessed us with her silent beauty for five days before we had to say goodbye forever.
We made as many memories as we could while we had her here, and some of my most cherished are the casts I have of her hands and feet. They are memories I can hold, memories I can share. Memories that remind people she is real.

Last year I started offering casts for our local babies that sadly pass away before, during, or after birth. Because I understand first hand how important memory creating is I do this free of charge. This means we need to fundraise regularly to enable me to be able to continue to offer this much needed service".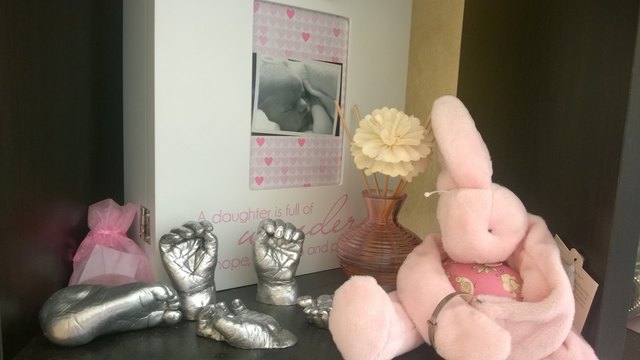 Clare then had her precious baby, Kate ..
Clare says :
"This whole journey started some 4 years ago when we lost our daughter suddenly to a very rare placenta abruption which saw her blood vessels abrupt. Something doctors have never seen and certainly something we never could have imagined. We watched her blood vessels abrupt at a routine growth scan at 36 weeks and with the 15 minutes it took to get us to hospital and the 2 minutes to deliver Kate, it was all over. She had lost half her blood and despite attempts to resuscitate, she couldn't sustain life.
Something in our wildest dreams we never anticipated facing or could even begin to imagine the pain. We started living our worst nightmare. Kate was with us at the hospital but every few hours to help with preservation we had to return her to the hospital refrigerator for a few hours. It was cold, heart breaking and all I wanted to do was keep her close, hold her and wrap her up warm. I couldn't do any of it. I vowed from that day forward, I would do whatever it took to try and make the journey that parents like us face when losing a child, a little bit better.
We started Kates Bears a few months later. Kate Bears donates enough bears to Auckland hospital and families nationally and some internationally that request them so they have something to hold. Something from one angel family to another and something to build a memory out of. Each family gets 2 bears. One larger one to keep and an identical smaller one to send with the child on its journey. We have so far in the 3.5 years it has been going supplied over 1500 bears. We hope it gives parents something to hold at a time of empty arms, and also something to know they are not on this journey alone. It also helps us feel we can keep Kates memory alive and she has created an amazing legacy.
On her second birthday we wanted to take it one step further. Along with the bears, quilts and tiny nappies we donate to Auckland on Christmas Eve (Kate's half year anniversary), we wanted to donate a cuddle cot, so that families could keep their baby close by. So they don't have to put them in a fridge, and so they can make a few more memories in the short time they have and share their baby with friends and family. On Kates 2nd birthday (24 June 2015) we started our fundraising campaign. We raised over $10,000 in 3 months and delivered on baby loss awareness day, cuddle cots to Auckland and Waitemata DHB's. We were able to give parents the gift of time.
On her 4th birthday we decided again it was time to gift something back. This time we have decided we would give "the room to grieve". Auckland hospital have one dedicated baby loss room. In all fairness they could do with more, but its equally important to make sure the unwell but living have the space they require. This room is not going to get hospital funding. Its a room very much in need of TLC. We have committed to raise funds to upgrade this room for them, and also to bring in another cuddle cot for Auckland. One is just not enough. Not everyone will get to use the room unfortunately but way too many people will get to use it".
Fundraising Auction :
In memory of Koby, Kate & Luka, we are holding a fundraising auction to raise awareness and $$ to help Ashleigh and Clare to continue the legacy of their beautiful girls.
We'd love it if you could join us x
Posted: Saturday 7 October 2017