Capture Your Grief 2019
31 days of images,
31 days of thoughts,
31 days of healing,
for Baby Loss Awareness Month.
In memory of Koby x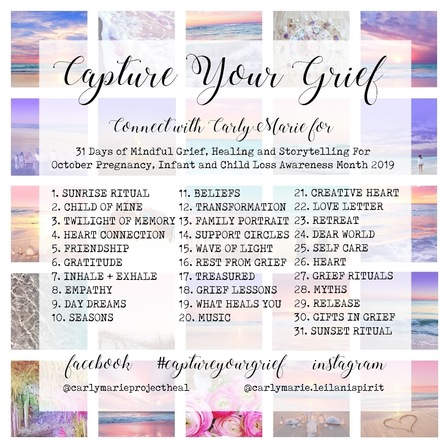 Day 1 : Sunrise
Beautiful start to the month. Koby remembering you each and every morning. Looking forward to this years #captureyourgrief and journey leading up to your birthday.
So special that it always starts on my birthday.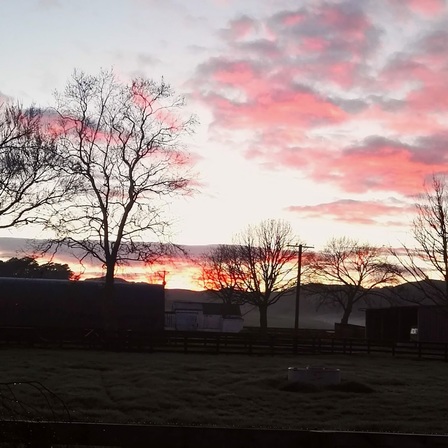 Day 2 : Child of Mine
My beautiful perfect little baby .. you were the sum of all our hopes and dreams and the miracle I never thought I'd get. I only got to keep you for a short time, but I loved you for every second of your life, and I'll continue to love you for every second of mine. With every ounce of my being I wish you could have stayed, but you have changed my life more than I could ever have imagined that day when I held your tiny hand for the last time. Koby I love you to the stars and back for forever xxx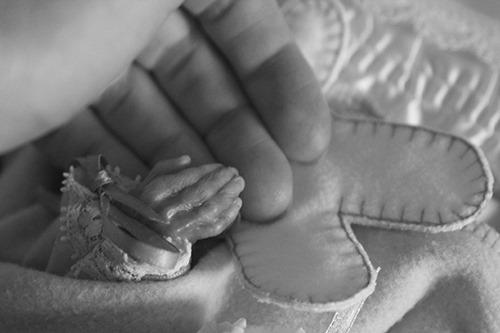 Day 3 : Twilight of Memory
Sharing a memory of Koby ... I'm not sure why I'm thinking of his funeral. I remember the tiny coffin. I remember Koby's Dad putting it in the ground. I remember how truly heart breaking that was. How unreal it seemed that I could possibly be putting my baby in the ground. Leaving him there. I remember all the kids running around, I have the funniest video of them running in circles around me. I remember all the love for Koby. I remember knowing that I'd love him forever. I love this photo, with the kids, my Mum and my amazing midwife, putting flowers on his grave.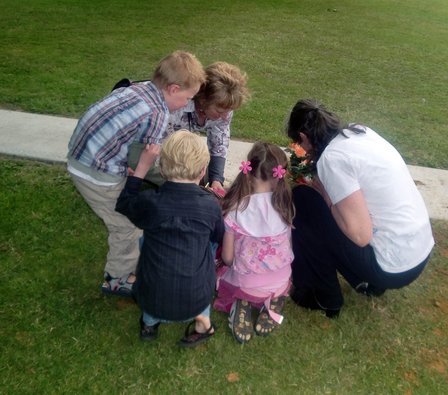 Day 4 : Heart Connection
I definately feel connected to Koby even though he isn't here. I feel him in nature, in rainbows and butterflies, in clouds and sunshine, at the beach and in the country. Rainbows make me smile and I remember when I was waiting for my own "Rainbow", all the rainbows that I saw just when I needed them. I know he is with me, I feel it in my heart.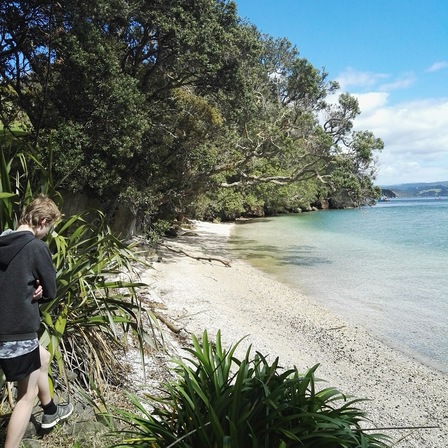 Day 5 : Friendship
I have made some amazing friends because of Koby. Friends who understand because (sadly) they are living this journey too. Friends who help to celebrate Koby's birthday, friends who help us give back, friends who mention Koby's name, who understand why every day is different now. Life after loss can be very lonely, people in general aren't comfortable in grief, talking about grief and loss. It's something we don't want to think about, and can be very isolating. Having people who know that grief can be a life long journey, that it changes, softens, but can return raw and painful no matter how the time passes .. is so important. I've always said, and I'll say again that if ANYONE ever wants to talk .. I am always here. You don't need to be alone x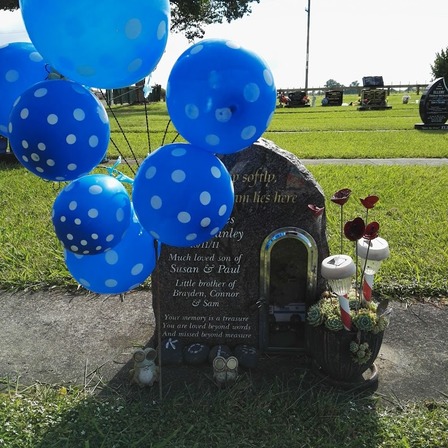 Day 6 : Gratitude
It took me a long time to be able to feel grateful again, to find reasons that life is good. I spent a lot of time searching for reasons where there were none. No reason why you couldn't stay. No reason why my life had changed forever. No reason why there would be always a missing piece of my heart.
Along that journey somewhere I realised that happiness isn't a destination, its part of the journey. Its little snippets along the way. I also realised that being grateful about what you do have, although cliche, really does improve the journey. Today I am grateful for many things. I am grateful that you were here. I am grateful that you existed. I am grateful to be the person I am today, BECAUSE of you. I am grateful for my children. I am grateful you sent me my rainbow. I am grateful for my passion and the road I have been on since you were here. I am grateful that I am still here. I am grateful for the little foot in the picture, because without you, this little foot would never have existed. I am grateful for you. I love you Koby xxx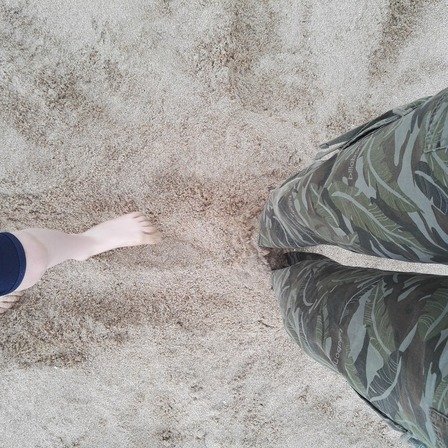 Day 7 : Inhale / Exhale
Today is about taking a day off and just being .. just appreciating nature and life. We were on holiday and the weather wasn't playing nice. But took the time to have lunch at the beach, watching the rain and waves crash in. The beach has always been my place of grounding and even more so now.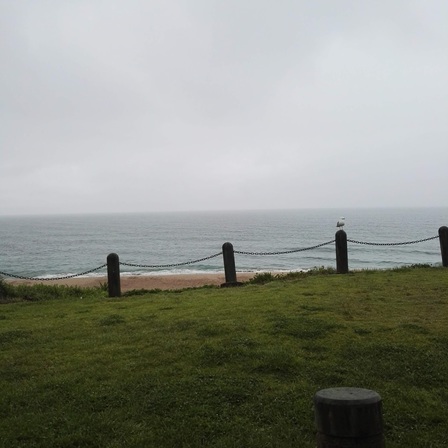 Day 8 : Empathy
There is power in empathy. The ability to listen and not try to fix. To be truly present for someone else and just listen. I don't know what it is about losing a baby, but I hear it a lot .. after .. you feel more. Everything is amplified. You hurt and cry more, and not just for your loss, but for others. For sad stories. Watching the news. I can't watch the news any more. It's overwhelming. The flip side is, when I let myself, I always feel the good more too. For those who have listened to me, been there, not tried to fix me ... it is appreciated more than you can imagine.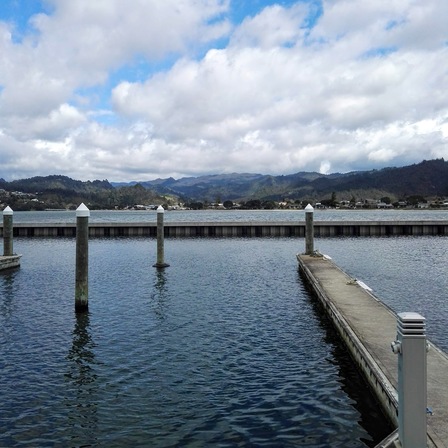 Day 9 : Day Dream
I do day dream about Koby .. I imagine him growing up. He'd be nearly 8 now. This picture was made for me ... a few years ago .. how I day dreamed him then. I wonder what he'd look like. Would he look like his brothers ? Would he have been blond as a baby, and slowly got darker like their hair has ? How would he sound, would he love the things they love ? Would he love gaming like they do ? Would they be playing together ? What would it be like ... with him here ? Who would he be ? Who would I be ?
All the what if's ... they'd be answered if he was here. I wouldn't have a lifetime of wondering ... missing. I'd know. Instead I have day dreams ...
Koby, just like I'd wish for you if you were EarthSide - you can be anything you want
Just have to dream it.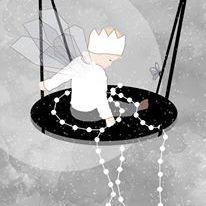 Day 10 : Seasons
This is Koby's season .. the start of. We got home on Tuesday from holiday to find the first of his Iris's flowering. It's one month and 8 days until his birthday. These are his flowers, and they always signal that his birthday is approaching. My Mum brought lots of these for me, and for his funeral, and they are just part of his memory now. Before we sold my Mums house, I made sure that I got some bulbs, so now they come up here every year too. He is my spring baby .. unsettled weather, but with hope in the air