Customer Story : Tracy and her Mi Vita Encantada Pendant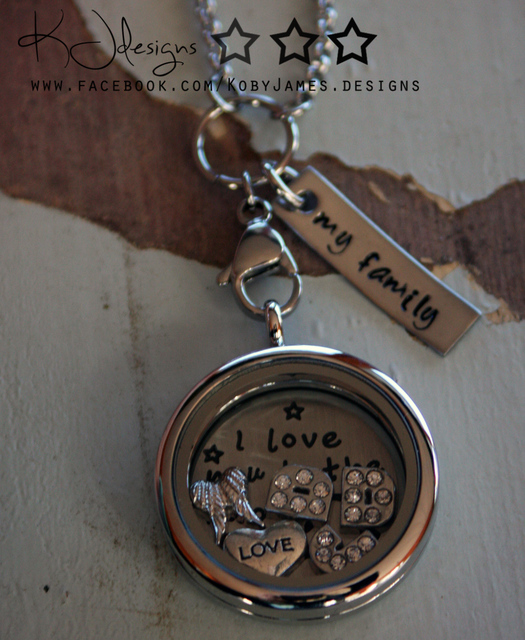 Customer Story : Tracy and her Mi Vita Encantada Pendant
Searching for a keepsake:
Tracy says : When I first heard of KJdesigns, I was looking for a keepsake for many reasons.
I wanted to celebrate our two darling sons, Daniel and Jayden.
I wanted to honour my husband, the father of my kids.
And I wanted to remember my angel babies…. All 8 of them.
Tracys story :
Tracy says : We had never had a problem falling pregnant. For no apparent medical reason, we just couldn't get them to 'stick' for longer than 16 weeks.
We decided after having Jayden in 2012 that our family was complete. I couldn't go through the mental anguish again of falling pregnant, and losing, another baby. So Dean had the snip, and away we went – living life with our two boys.
Keepsake :
Tracy says : I worked with Susan on personalising a Mi Vita Encantada locket. In my eyes it was perfect as it could hold the initial charms of my two boys "J" for Jayden and "D" for Daniel as well as the initial of my husband Dean. And Susan found me a gorgeous set of wings charm to remember my wee angels… just perfect.
And then a miracle happened :
Tracy goes on to say : So imagine our surprise when I found myself contacting Susan a year later to ask if she could get me another initial letter for my locket. Another "J" was needed for our miracle baby, Joshua.
He fought against all odds (our ages, our history, our vasectomy) and arrived healthy and happy in September 2016. Our family is now definately complete – and I have my Mi Vita Encantada locket to remember that.
Mi Vita Encantada Lockets :
These 'floating lockets' make fantastic keepsakes, they can be personalised to suit you and your family. You can even choose a personalised handstamped backplate. Tracy choose the initials of her boys and husband, and angel wings to represent her angel babies. She also choose a backplate reading "Love you to the moon and back".
As she mentioned, these can be added to at any time, and when her precious Joshua arrived, it was exciting to be able to send another initial for her to complete her keepsake.
Posted: Friday 17 June 2016