Wow! 6 years in business !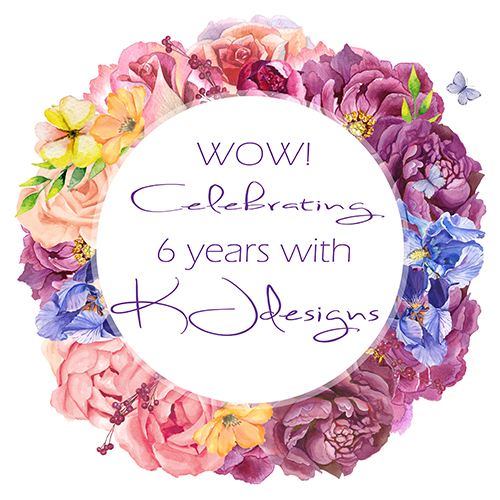 April marks 6 years in business for KJdesigns
If someone had told me 10 years ago I'd be running this business, doing what I love, I would not have believed it. It was something I'd always wanted, but never really know what I wanted to be when "I grew up".
Then Koby came ..
And left, and my whole world tilted on its axis. I was adrift and nothing made sense. Going to work, when I eventually did go back, provided some 'normal' at first .. but then seemed pointless. Why was I there ? What good was I doing ?
After Koby died, I spend days, weeks, months searching for 'something'. I didn't know what. Answers. A reason. Connection ? Some way of making sense of it all. Didn't everything happen for a reason ? Actually no .. was what I decided. Sometimes things just happen. Good and bad. No reason. And that is the hardest thing. When there is no reason. When you did everything right.
My search ..
Led me to handstamped jewellery. It led me to the fact that no-one did this in New Zealand. I wanted something with Koby's name on it ... and if I wanted it NZ made, because he was, I'd have to do it myself.
I did .. and I was hooked ! This was it. I could have him close to me, something physical. And I could physically create something. All my life I had dabbled in the creative, but never actually finding my passion.
I loved ..
Handstamping jewellery then, and I love it now. I love that I can help to create tangible memories for others to enjoy. I love how it has been embraced by so many, and how many repeat customers and loyal fans I have. I love the amazing connections I've made over the years. I love how it has enabled me to give back, and most of all I love how I can put your angel babies names right there beside your living children. I love how I can do this for you. So you can share that your angel babies are just as much part of your family as your other children.
Sometimes I find it hard ..
to believe that KJdesigns has been around for years. That I've been able to create something and build it into a business that supports my family. It blows my mind that this is now my full time job ! When I step back and think about it, I'm super proud of myself. (And that is not something I find easy to say..).
I often have people asking ..
me how I turned a hobby into a full time job... Well, the answer to that really - is a whole lot of hard work. At first you kind of just do what you do, and people come, like your stuff, and some of them will buy it. Then you realise you need to make a way for people to find you, and you create a Facebook page, and it just grows from there. The truth is, it doesn't stop. You don't just create a page, or a website, and then stop. You have to keep working on it. All the time. It is really hard work. But, it is worth it.
To the people who tell me I'm so lucky I can work from home. I'll agree - I am lucky I can work from home. But it wasn't luck that created my business and grew it over the last 6 years to enable this to happen. It was me .. working hard. Inspired by Koby.
So, I'm proud to say ..
KJdesigns is 6 this month. Its been 6 years full of excitement, fun, creativity, hard work, more hard work, experiments, and lots and lots of learning, and a few tears I'll have to admit. But .. I'm proud to say, KJdesigns has made it to 6 ... and who knows what the next 6 years will bring. I hope you will all stay along for the journey.
Posted: Wednesday 4 April 2018