Customer Story : Kristina, her Angel and her Rainbow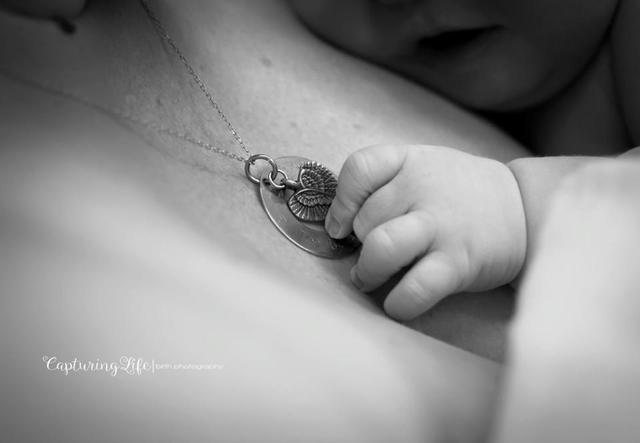 Kristina, her Angel and her Rainbow
Calebs Story:
It was a Wednesday afternoon when I just didn't feel right. My baby was lifeless, still inside of me, and I was devastated. We were nearly 16 weeks along, everything was going perfect, and I had passed that 3 month milestone that means you are supposed to have a healthy baby at the end of 9 months. This is what my naive self thought at the time anyway. I was at work when I found out, so I was completely alone and I now had to call my husband and tell him the unthinkable.

It was the end of the work day, and the Wednesday before the Easter long weekend. What would happen now? I called my Midwife who called the Women's Assessment Clinic to get me in to see the Obstetrician team as soon as possible. Thursday was already booked up, and the holiday weekend started Friday. I would have to wait until Tuesday at the earliest. TUESDAY. I was just supposed to go on with my life like nothing happened and my child was not lifeless inside of me for at least 5 days. How would I cope? What would I do? How would I not think about my precious baby every second of every day? How will I care for my 18 month old daughter, and put a smile on my face for her?

I have no family in this country and had to make the call to my parents and tell them the news. I could only handle telling them everything and told them to please spread the news to the rest of the family so I wouldn't have to keep reliving that day. My husband and I managed to get through the weekend somehow, and Tuesday was finally here. Not wanting to wait for the call, I called the Women's Assessment Unit myself and asked when I was able to come in. They suggested a D & C and I was booked for the next day.

Meanwhile, I was starting to become very ill. I developed a fever, hot and cold sweats, dizziness, sore throat, and weakness. I spent the entire day in bed unable to move. I was terrified that they wouldn't do the surgery because of my illness. The next day I was taken to theatre, and just before moving over onto the table, the surgeon told me my baby was much too far along for a D & C, and I would have to deliver him naturally. I was taken out of theatre and put on the ward and given pills to put me into labour. Only a few hours later I got up to use the toilet to change my blood soaked pad. My husband had just left to take our daughter home to bed and then he would return once the babysitter came over. I started to pass a big clot, and the next thing I knew, it happened. I knew my baby had come out. I just delivered my baby on the toilet. Frightened and alone I pressed the emergency buzzer and a couple of nurses rushed in to help me. They clamped the umbilical cord and helped me calm down while they waited for the placenta to follow. When it didn't follow, they told me to just to stand up for a while and walk around slowly.
They took my baby away and were focused on me. I was losing a lot of blood and was feeling really faint. I was put back in my bed where I called my husband and he rushed back to the hospital as quick as he could. When he got there a huge surgical team was surrounding me and decided I needed to go back to theatre for a D & C to remove the placenta as I had lost far too much blood. Off I went back to theatre. I hadn't even seen our child yet. I didn't know if it was a boy or a girl. I gave my phone to my husband and said to go and see the baby and take pictures for me.

When I got out of theatre my husband was there by my side. He showed me the photos of our precious child, and told me we had a boy! A boy I will never see grow up, smile, laugh, run, or play. The next day I got to have my son by my side until I left the hospital. I just stared at him in his little box for hours. I still couldn't believe this was happening to us. What had we done to deserve this? I was discharged that afternoon after my fever was gone and my haemoglobin levels were back to normal after the blood loss. Luckily, I did not need a transfusion in the end, because I was taken to theatre so quickly.
Healing :

We were given a Sands box while at the hospital. I had never heard of Sands before, but the items in this box helped get me through every single day of my grief. It helped me knowing there were other people dealing with this horror as well. My favourite item was a tiny footprint charm and necklace that I immediately put on. Now that my son was gone, I would use this as a symbol of his existence, and wear it close to my heart. I later found out that KJdesigns was responsible for this charm and that the owner was a fellow Sands member who donated these precious items to families going through this horrible situation. I often went to her website and browsed her items wanting to purchase something specifically for my son. I liked many items but just could not decide. We hadn't named him yet, and I didn't know what I wanted to have on this momento. So I just stuck with my footprint charm and would come back to it when I was ready.

We decided on Caleb John William Green for his name. He was cremated and some of his ashes were swirled through a beautiful blown glass sphere and the rest remain on a box that we keep with all of his ultrasounds, pictures, cards, and special items from his brief yet special life. When we finally got the post mortem results back, we found out that they found nothing. There was no chromosomal defects, infection or other problem with our precious boy or the placenta. So why did he die? This is a question that will haunt me forever. He just died. Some babies just die I guess. I will never get an answer and will have to be satisfied with not knowing. I will have to just be thankful for the short few months I had with him and the love I had for this child who never got a chance to see my face, or meet his sister, or play with his Dad.
A Rainbow of Hope :

Just two months later, we got a big surprise. We were pregnant. We couldn't believe it! We struggled with falling pregnant in the past and were not expecting this. Was I ready for another pregnancy? Was I ready to carry a child who should never exist had Caleb lived? I wasn't sure. Every day was agony. I was living a nightmare. Every second I just assumed this baby was dead too. Every cramp, every pain was the worst situation in my head. When you have lost a child in the past I think this is normal and I don't think it will ever get easier regardless of how far along in the pregnancy you are.

Shortly after I fell pregnant, I came across a post from KJdesigns with a beautifully inscribed washer and angel pendant. This was it. I just knew this is what I was meant to have for my Caleb. I ordered it immediately and it never came off. It carried the strength I needed to get through the pregnancy. I had this miracle Rainbow baby growing inside of me because of my sweet son. I needed them both. I wouldn't have one without the other. They were both so special to me.
Welcome to Emery :

On February 13th, 2016, I gave birth to my Rainbow girl, Emery Anahera Green. She was perfect and I could not believe I was holding a healthy living baby girl. Within moments of her being placed on my chest, her little hand grasped Caleb's necklace and wouldn't let go. It's like she knew that while I was so incredibly grateful I had her, I still missed my son and I would always miss my son. She let me know it was okay to love him too and that she was here because of him. This necklace was meaningful before, but now it was so much more special. I'm so thankful my birth photographer captured this incredibly special moment my son and daughter shared. I'm also so thankful for KJdesigns. I'm thankful that she is someone who understands the hurt families go through when losing a child and provide special items to help the grieving process.

My daughter is now nearly five months old and I still wear Caleb's necklace every day. Every now and then her hand reaches up while she breastfeeds and holds onto the charm, like a reminder that she knows he existed and that she loves him too.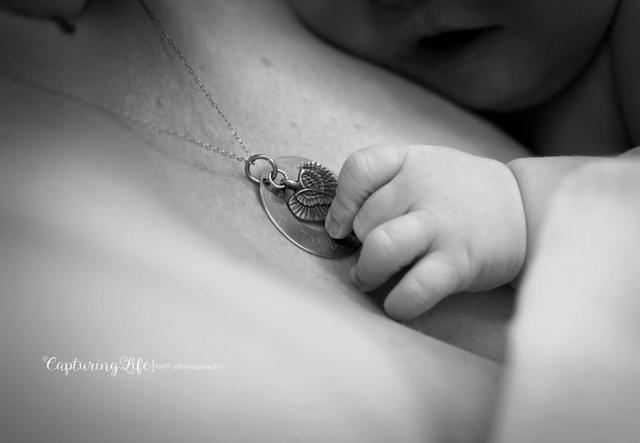 Posted: Friday 15 July 2016