Sign Language I Love You Pendant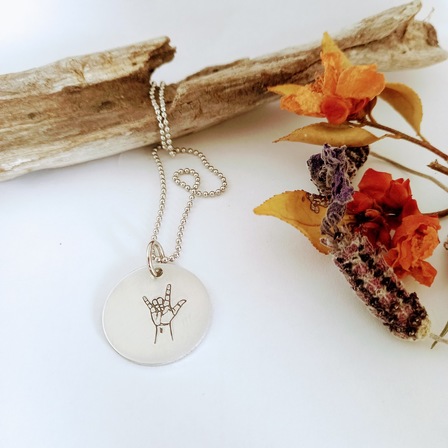 This is our gorgeous and meaningful pendant featuring the sign language sign for "I Love You." This delicate piece serves as a beautiful representation of love and affection, captured in the elegant sign language gesture.
Hand-stamped jewelry holds a unique charm, and our custom-stamped I Love You pendant is no exception. Crafted with care and attention to detail, this pendant can be personalised to make it even more special. There is ample space around the outside of the disc to add a name or a couple of words that hold personal significance.
Treasure this pendant as a symbol of love and connection, a reminder of the affectionate bond you share with someone dear to your heart. Its timeless design and heartfelt customisation make it a cherished keepsake that will be treasured for always.
Embrace the beauty of sign language and personalisation with our custom-stamped Sign Language I Love You pendant. Shop now and create a unique piece that captures the depth of your emotions and becomes a symbol of love to treasure forever.
22mm Aluminium disc,
on 60cm stainless steel ball chain