Memorial Candle
Remember your baby or loved one with a special personalised Memorial Candle.
Together with Little Olive Tree we have teamed up to create these gorgeous Memorial Candles especially for you.  They are a beautiful way to remember and celebrate the life of one you loved.
You can choose from 3 sizes
small (55g net) - approx 20 hours burn time
medium (170g net) - approx 50 hours burn time
large (245g net) - approx 70 hours burn time
Eco-Friendly Candles
The candles are scented soy, which is a sustainable and eco-friendly resource, which burns cleanly.
The wicks are American Softwood, which is a renewable resource, and they aren't treated with any bleach or chemicals so they are safe for everyone.  
They are available in a variety of beautiful scents.
Coconut & Lime
French Pear
Lychee & Black Tea
Rose
Sandlewood & Musk
Unscented
Vanilla
You can also purchase a refill for the Small size candle from Little Olive Tree.
These beautiful candles also include a handstamped disc - which can be personalised with your loved ones details.
Your choice of special quote on the candle - and a pink or blue sunset.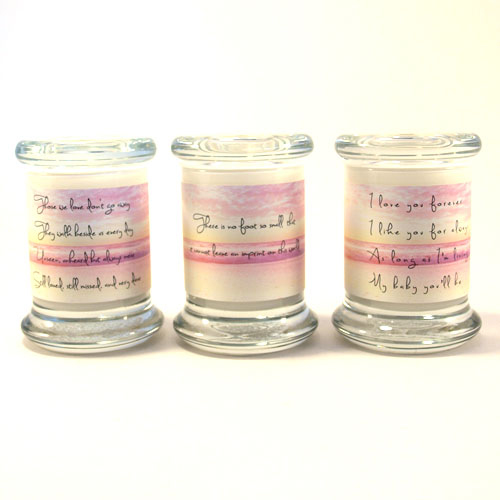 My Baby Quote
I'll love you forever
I'll like you for always
As long as I'm living
My baby you'll be
No foot so small Quote
There is no foot so small that it cannot leave an imprint on this world
Those we Love Quote
Those we love don't go away
They walk beside us every day
Unseen, unheard but always near
Still loved, still missed and very dear
Every year we personally join in the International Wave of Light on 15 October, which is an annual event to honour and remember babies lost in pregnancy and beyond.  Families in every time zone around the world light their candle for 2 hours, creating a 24 hour wave of light around the Earth, reaching the heavens.
Disc : Stainless Steel 
Candle :
Produced using 100% natural Soy Wax
Parrafin & petrolium free
Delivered ethically with sustainable ingredients
55g net weight
approx 20 hours burn time