Why Did I Start My Business
Grief.
KJdesigns began out of the depths of grief. November 2011 was the lowest point of my life and I was searching for meaning and reason. Our beautiful baby Koby, was born too early, he fought for a week after my waters broke, being monitered every hour, checking his heart beat, checking the fluids. I kept him safe inside me for another week, believing that we could keep him, just another 5 days we needed, and the medical world would deem him the correct age to intervene and attempt to save.
But sadly this didn't happen and Koby was born, silently into this world. This plunged my world into something that I could no longer understand. It was overwhelming. The why's. The what if's. I was in a thick mist of grief and found it difficult to see anything clearly.
Grief. It's a process. In that process I found the need to celebrate his life. To remember him. To create, in his honour. To prove he existed, and that I loved him.
Celebrate.
I wanted to celebrate his short life. His life meant so much to me. I searched, and searched. I couldn't find what I needed. Then I came across Handstamped Jewellery. I love jewellery, and making personalised jewellery was the solution - I could stamp his name on my jewellery. Permanent and real. I could celebrate his life, remember him, show off his name, by creating my own handstamped jewellery.
KJdesigns was born.
KJdesigns was born from grief, but also from the desire to celebrate, remember, inspire and love. At the start I made different designs with Koby's name on it. In time I added our other children, I wanted to include everyone. I handstamped necklaces, keyrings and bracelets, with names, special quotes, and anything that helped me at the time. I even stamped a poem onto a tray.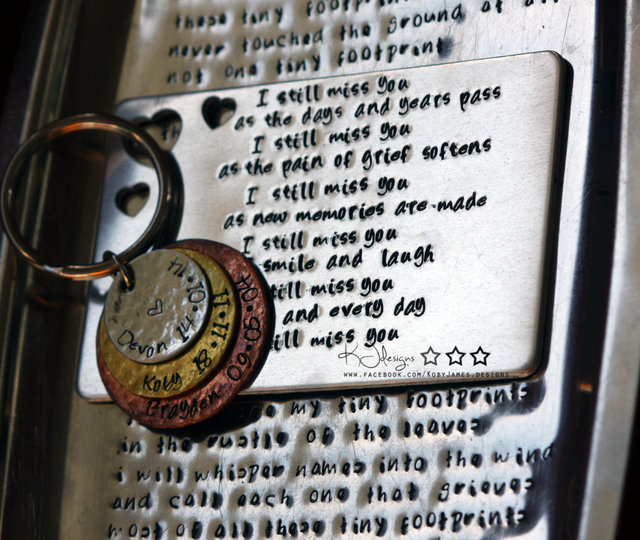 Stamping is like therapy for me. Creating jewellery and keepsakes for others, helps me beyond words. Not only did KJdesigns give me a way to remember and honour Koby, it gave me a creative outlet, and a business.
Healing.
KJdesigns and handstamped jewellery has literally saved me. Saved me from losing myself into the mists of grief. It gave me something to focus on, something to grow and it also gave me a way I could give back. One of the best things for me about this journey is being able to help others, and creating handstamped jewellery for those who have also suffered loss is so special to me. Sometimes it hurts so much, knowing others are feeling similar to how I felt. Wondering how you can carry on, with part of you missing. And I hope, that creating something physical, for them to wear, or carry with them, gives some small comfort, that not only they have their babies name with them, real and solid, but that someone else knows. Someone has walked this path before them, and survived. Thrived.
Future.
Handstamped jewellery and KJdesigns is my passion. It's coming up 5 years, and not a day goes by that I don't think of Koby, and appreciate everything he has given to me.
So that is why I started my business, and why I continue my business. Because it is my passion, my saviour, and my dream. Because it is my baby.
Posted: Sunday 28 February 2016