Customer Story : Ashleigh and her babies
Customer Story : Ashleigh and her babies
Im Ashleigh. I have five children. Two big kids, one Luka, and two little ones.
Luka's Story :
When I got pregnant in 2012, I was over the moon. I had two older children, Maya and Jakob, but this was my partners first. It was fantastic, I had a ten year age gap between my youngest and our new baby, and we were all looking forward to the little one coming.
Everything was perfect. We were expecting a wee girl on Boxing Day 2012 ~ a Christmas baby!
On December 13th, our baby stopped moving. Just like that, my belly was still. I saw my midwife, our baby was alive but there were signs she was not doing very well. We went to the hospital and within an hour we were in theatre awaiting the arrival of our now sick baby.
Luka Pixie was born by caesarean at 1402 ~ 7lb of absolute perfection. She passed away at 1427. She introduced us to a whole new world, where everything was different, and where nothing would ever be the same again. The world of babyloss.

Ashleigh's Rainbows :
I went on to have two more children, Ever and Jupiter. While they have helped distract us from the pain of losing Luka, we havent forgotten her, gotten over her, or stopped including her. Luka is my third child, and she will always be part of our family. She will always be counted, and always count.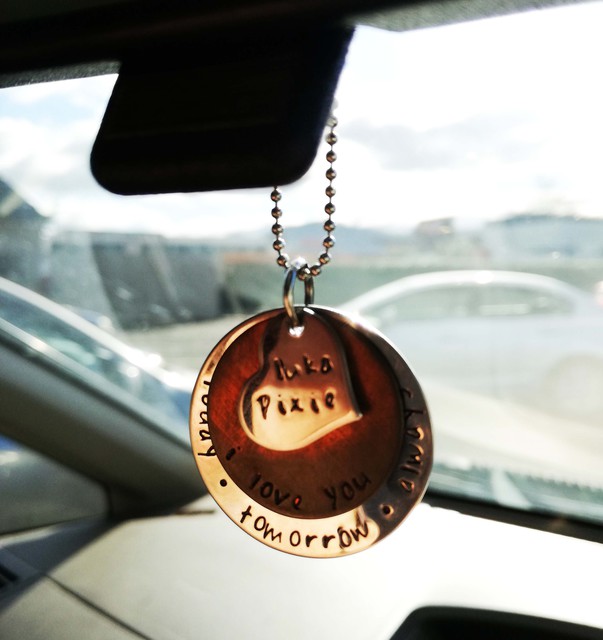 Luka Pixie
I Love You
Today Tomorrow Always'
Wearing Luka's name :
Wearing Luka's name, or having it displayed, or even writing it down, brings me feelings of both pride and comfort. I am proud she chose me to be her mama, and chose us to be her family. I am proud of her, just as I am of my others. I am proud of how far I have come and of the person I now am, since she was born. I take comfort in being able to share her as freely as I do. Ask me about her, I am not afraid to tell you her story. She lived, she is my daughter, and she matters.
Handstamped Memorial Jewellery :
Our custom handstamped jewellery is perfect for honouring and remembering your baby. All of our jewellery can include your angel babies name as part of your family, and we also have a specific baby loss range. Made by someone who understands.
http://www.kjdesigns.net.nz/product/1413332
Posted: Friday 19 August 2016