2017 Here we come!
KJdesigns in 2017
Hard to believe it is February already! 2016 was a fantastic year for us, and all the good things will hopefully fall over into 2017.
Personalised Jewellery and keepsakes
We are excited about the year ahead, my husband has come on board with the business and together we have some great ideas that we will bring to you in 2017. Research and more research is being carried out as we decide how we will move ahead with some of these ideas. It is hard not to just jump right in, but trying to 'do the right thing' business wise is our goal for this year.
We also have some new ideas to add to our Baby Loss and Memorial Range, which I am excited to share in the not so distant future. We will also be bringing some new ideas for weddings, and hope you will love these.
Handstamping is still my passion
Handstamping is still my passion, and when I haven't done any for a few days, I do tend to jump into the studio, just for fun. This has recently led to the creation of our Inspired Bangles ... which are hammered copper bangles and cuffs, created by me from copper wire.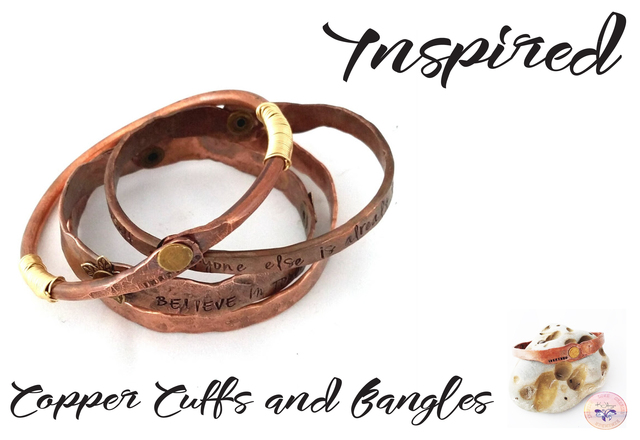 The first of these designs has made it onto the website and is available here ... Inspired Bangle
Join us on our journey
As we continue in our business, inspired by our beautiful baby Koby, who had to leave us too soon, and our desire to help people love, cherish, remember and inspire themselves and those they love.
Follow us on Facebook and Instagram and if you want to be 'in the know' before everyone else we have a special Facebook group for KJdesigns Addicts
Posted: Friday 10 February 2017